KubeCon + CloudNativeCon Europe 2022
It was a busy week last week at KubeCon +CloudNativeCon Europe 2022 in Valencia, Spain.  It seemed like the entire world related to Kubernetes came together after two years of being apart. It was fulfilling meeting up with our peers and gaining market insight- face-to-face. 
Catalogic's core messaging this year has revolved around cyber-resilience for data protection. CloudCasa protects Kubernetes data and environments, providing a cyber-resilient, scalable backup and disaster recovery service for cloud native applications. CloudCasa supports all leading Kubernetes distributions and managed services as well as the most popular cloud database services.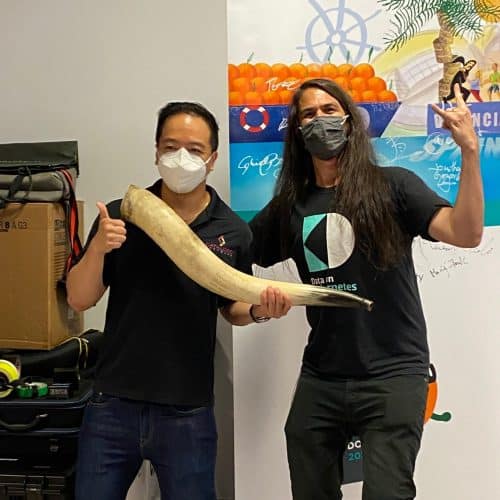 On the first day of the show, we presented at the co-located and hybrid event, Data on Kubernetes Day @ KubeCon EU 2022, where we gathered with colleagues to discuss best practices for running stateful workloads on Kubernetes. Ryan Kaw, our VP of Global Sales, shown in the picture above with Bart Farrell of DoK  Community holding a Basque horn, talked about "The Many Uses of Kubernetes Cross-Cluster Migration of Persistent Data" and we enjoyed the post-event cocktail party.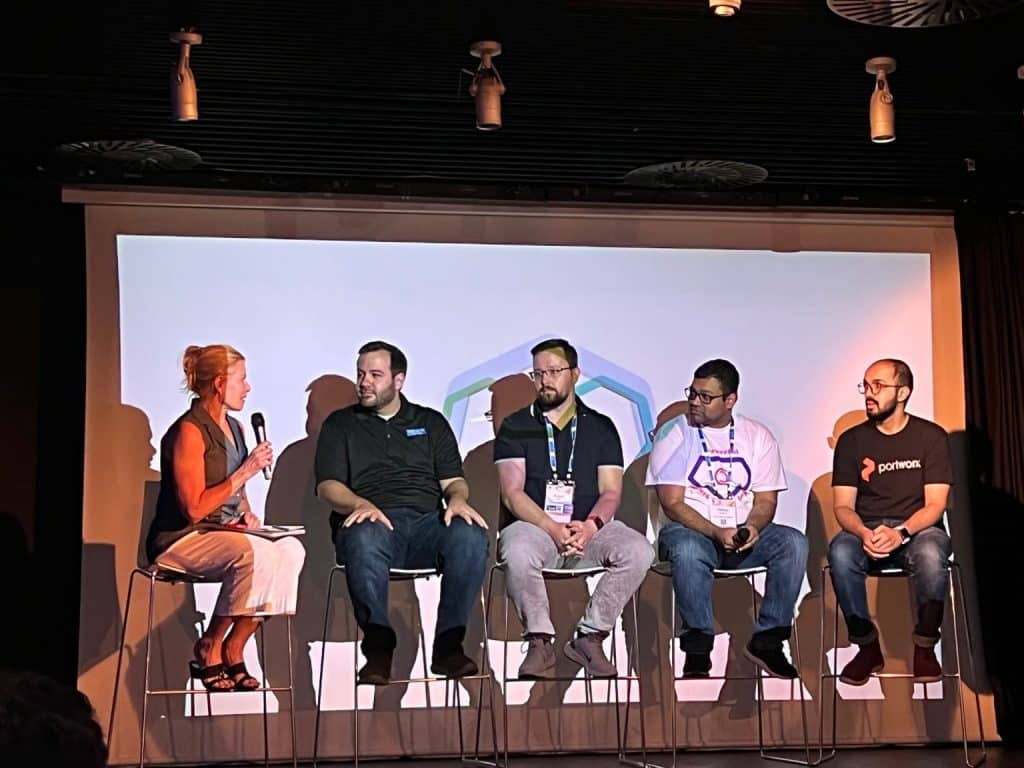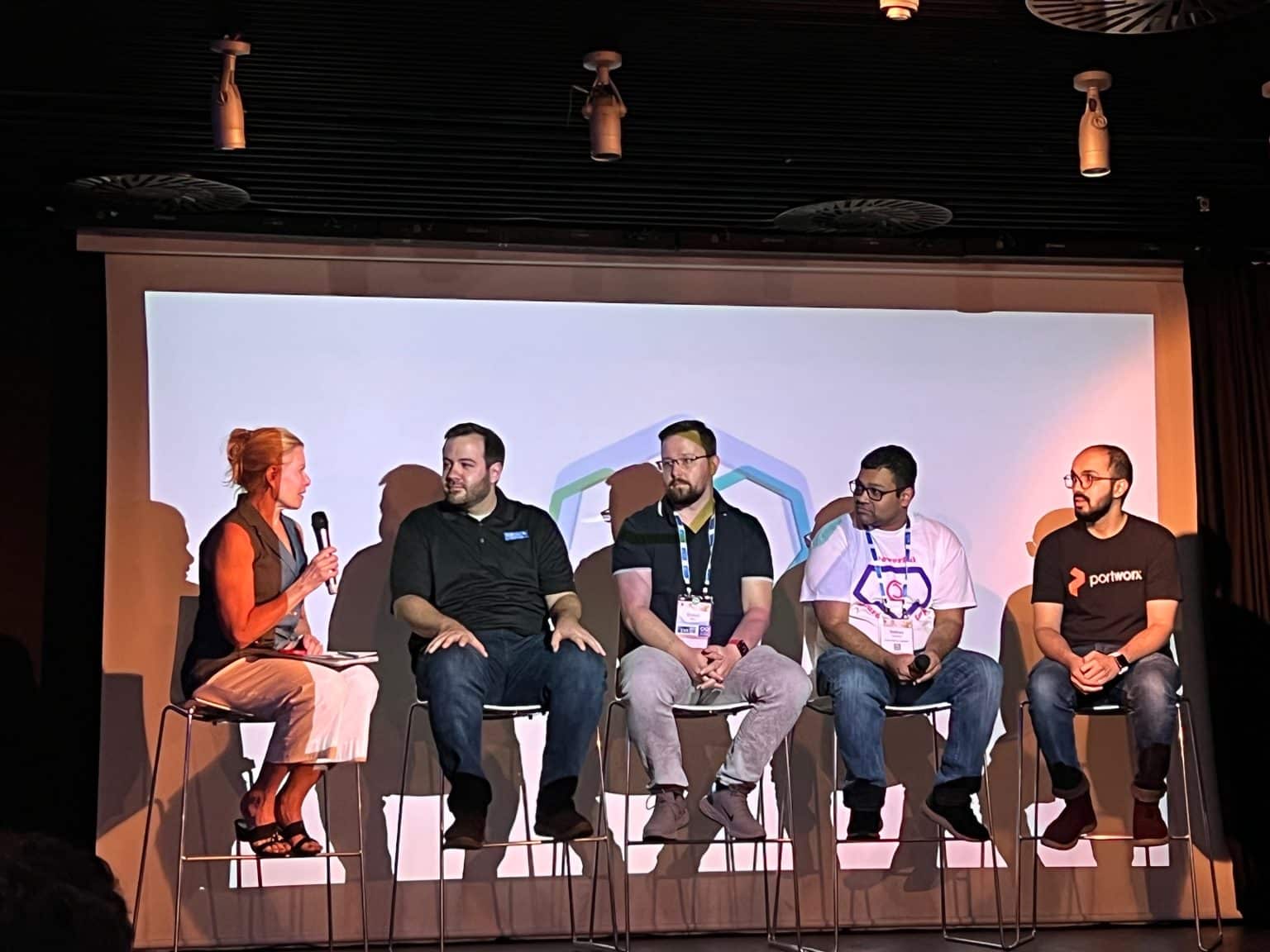 On the second day, we participated in a networking lunch and attended the Cloud Native Day Management Day EU 2020 where Sathya Sankaran, GM of CloudCasa, was invited to participate on a lively panel entitled "Kubernetes, Cyber Attacks and Data – Planning for the Inevitable," led by Camberley Bates of Evaluator Group.
We also announced that our CloudCasa now provides account integration with Microsoft Azure Kubernetes Service (AKS) bringing a similar level of automation as that provided for Amazon EKS.  We added Role-Based Access Control (RBAC) and multi-tenancy support and announced that at the conference, as well.  The premise – CloudCasa is already the most cyber-resilient backup service for Amazon EKS and we've extended the same capabilities to Microsoft AKS, as well.
Additionally, we announced a partnership with Clastix to add support for its Capsule offering – an open-source multi-tenancy solution that allows multiple teams to securely share a Kubernetes cluster. Now tenant users can back up and restore only their own resources providing a secure, self-service solution for Kubernetes data protection in a multi-tenant environment.
This may seem like burying the lead, but at the conclusion off the conference, we found out that we were among the vendors awarded the 2022 Intellyx Digital Innovator Award given to "the most disruptive, interesting and enterprise-relevant" vendors according to the analyst firm. Intellyx says that they "get dozens of product pitches daily, and there are so few vendors they can write about or even talk to in a given week, making a win less than 1% of 100, which, as a statistic, is really saying something."
It was a great way to conclude an important conference for us, where compared to the KubeCon event, we had more than twice the traffic at both our physical and our virtual booths. The CloudCasa $50 pomotion and our e-scooter giveaways were big draws for us, as was our booth messaging declaring that "CloudCasa is your cyber-resilient, backup superpower."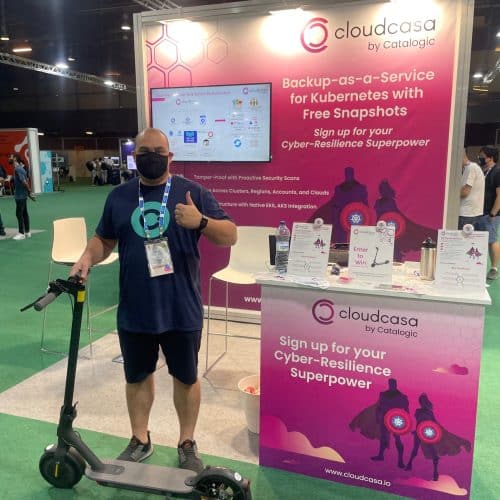 As digital transformation initiatives continue forward, and cyber-resilience becomes a business imperative, we also continue to see the boundaries shift. We are constantly on the cusp of change, where new business applications will blur the lines between the physical and digital- meaning data can be located anywhere for anyone.  As these application boundaries continue to fade, corporate infrastructure and data will commonly be found in disparate locations. CloudCasa by Catalogic will be here to support our ongoing push toward an automated, cloud-native world.
Sign up for the CloudCasa Free Service plan, no credit card required. If you have any questions, check our extensive CloudCasa FAQ, or simply chat with us in our popular in-product support chat.
Top 10 Reasons for Using CloudCasa
Immediately benefit from a powerful and easy to use Kubernetes backup service that does all the hard work for you to backup your multi-cluster applications and provide granular or cluster-level recovery including cross-account, cross-cluster, and cross-cloud recovery.
CloudCasa is so easy to use that even developers won't mind managing backups. It comes with a generous free service plan (no credit card required) and it is a great alternative to using Velero or Kasten.
Here are the Top 10 reasons to use CloudCasa for Kubernetes backup, migration and disaster recovery, vs. these options:
Do-it-yourself (DIY) products, whether open source like Velero or a product that you have to license, install and maintain like Kasten or Trilio

Retrofitted enterprise or cloud backup products with container support, that still have all their baggage from the past (you know who they are)

Cloud vendor or any VM backup that is not Kubernetes aware, or is single cloud only

Container storage solutions with replication, or that come bundled with a single purpose backup application like PX-backup

Solutions that don't offer a free service plan or that charge by the cluster or by worker nodes
As a Kubernetes backup-as-a-service solution, CloudCasa removes the complexity of managing traditional backup infrastructure and it provides the same enterprise-level of data protection that your IT Operations provide today.
With CloudCasa, IT doesn't need to be Kubernetes experts and DevOps doesn't need to be storage and database protection experts in order to backup and recover your Kubernetes clusters and even your cloud databases. And cyber-resilience and ransomware protection is built it.
CloudCasa provides a generous free Kubernetes backup service plan that includes unlimited worker nodes,
clusters,
and unlimited CSI and RDS snapshots with 30 days retention. Easily manage Amazon RDS snapshots, schedule and manage multi-region copies of RDS snapshots, and recover RDS snapshots from CloudCasa or AWS automatic backups