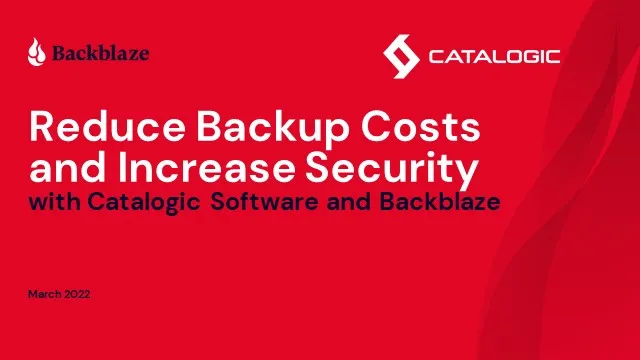 About this talk
Are you looking to reduce your backup storage costs and migrate from tape to cloud storage?
You can accomplish both, all while protecting your data center and Kubernetes backups from ransomware and providing verifiable compliance for data retention with Catalogic and Backblaze. 
Join Troy Liljedahl, Solutions Engineer Manager at Backblaze and William Bush, Field CTO at Catalogic Software as they demonstrate how easy it is to store your backups in cloud object storage and protect them with object lock. 
During the webinar, you will learn more about: 
The cost effectiveness of cloud object storage vs. using disk or tape. 
How easy it is to configure backup products to use S3 compatible cloud object storage. 
Compliance and ransomware protection via S3 Object Lock.
We'll end with a short demo showing how Backblaze B2 with Catalogic DPX and CloudCasa offers another way to significantly lower costs, while also increasing security and compliance for on-premises and cloud-native Kubernetes backups.