Can you ride Velero backup?
Modern containerized applications are increasingly born in the cloud and the big three managed Kubernetes services – Azure Kubernetes Service (AKS), Amazon Elastic Kubernetes Service (EKS), and Google Kubernetes Engine (GKE) – rule the skies. With more users picking managed services in public cloud as their preferred platform, self-managing a backup infrastructure in the cloud is an antithesis. According to the Data on Kubernetes 2022 report, failure of Day-2 Kubernetes operations, such as backup and recovery, remain a significant challenge.
Velero (which means sailboat) is a popular open-source framework to backup and restore Kubernetes clusters. As of October 2022, Velero has been pulled from Docker Hub over 50 million times! It is one of the most active projects in the Kubernetes ecosystem and delivers robust snapshots, backups, and restores of Kubernetes data and applications. However, Velero backups are hard to navigate and manage unless you are an expert with Kubernetes Custom Resource Definitions (CRDs). Velero user forums make for painful reading on how its basic operations are anything but obvious. While Velero-the-sailboat is solid enough to keep you afloat and away from "mayday" calls, there will be no shortage of less life-threatening but urgent "pan-pan" calls. Velero delivers solid data protection and management, one Kubernetes cluster at a time, but it relies on ecosystem partners to fill gaps for multi-cluster, multi-cloud environments.
While a Velero backup is great for developers and DevOps teams, if you are a growing organization with multiple clusters or multiple cloud platforms, CloudCasa for Velero will make it a smoother ride for your needs. If you are an enterprise organization with hybrid and multi-cloud environments, and compliance and disaster recovery requirements, CloudCasa for Velero is definitely the platform to ride for your SRE and IT Ops teams.
Top 7 Reasons to Upgrade to CloudCasa for Velero
As the most comprehensive Kubernetes backup service, CloudCasa offers many benefits on top of Velero while leveraging Velero for its goodness, such as CSI snapshots and app hooks. Here are the Top 7 reasons CloudCasa will upgrade your experience with Velero backups, and help fill important data protection gaps for your enterprise deployments:
Easy Onboarding
Zero backup infrastructure is needed for setting up backups and managing and monitoring Velero with CloudCasa. One can managed multiple Kubernetes clusters with Velero installed, including for multiple cloud accounts on AKS, EKS, and GKE. Users can also upgrade to CloudCasa Pro and auto-deploy agents on cloud clusters – supported in AKS, GKE, and Digital Ocean.
Multi-Cluster and Multi-Cloud Management
For a Velero backup, all configurations and management are done on a cluster basis. Everything needs to be repeated in every cluster, and it is a process that is prone to errors and configuration drifts over time. With CloudCasa for Velero or CloudCasa Pro, here's some of the things you can centrally manage:

Kubernetes backup and restore for multiple clusters
Multiple cloud Kubernetes managed service accounts – AKS, EKS, GKE
Cloud S3 storage as Kubernetes backup target locations
Schedule and backup retention for all your clusters
Backup compliance and cyber-resilience posture
Backup and restore activity, status, and alerts

Improved Kubernetes Backups with CloudCasa Pro
Velero backup uses Restic as the backup data mover. Restic has several well-documented shortfalls and is notorious for poor performance for both larger files and large-quantity of small files.

CloudCasa's backup data mover is performance optimized and can transfer between 3-7x faster than Restic, based on real-world test results and benchmarks.
Restic has also lagged in many basic data efficiency features. Even compression wasn't introduced until mid-2022.
Tamper-proof backups with Object Locking or virtual air-gapping is a key, emerging requirement that Velero does not support today. CloudCasa supports both, SafeLock (API blocking of backup expiration) and S3 Object Lock (immutability).

Full Stack Recovery
For a Velero backup, one can only restore a Kubernetes cluster back to itself or to another existing cluster. You cannot compose an entirely new Kubernetes cluster from the backups. This means users must choose between the burden of maintaining a fully configured standby k8s cluster or the just-in-time building and configuring of a new k8s cluster when needed. The former costs money, and the latter costs time. With CloudCasa, you can restore the entire cluster, not just namespaces, PVs, or a subset of resources. CloudCasa is the only Kubernetes backup product, or Kubernetes backup service in the market today that can restore the entire cluster.
Cross-Cloud Mobility
With CloudCasa, users can catalog how a Kubernetes cluster is configured and restore it back to a different cloud account or a cloud provider. One can back up an EKS environment and restore it into AKS or GKE or vice versa. CloudCasa handles mapping node ports, storage classes, sizing, scaling information, IAM mapping, etc. because of the direct integration with the cloud providers.
Backup Catalog and Compliance
Velero stores your backups and the metadata to your Backup Storage Location. Lack of a centralized Velero backup catalog creates a monitoring and compliance gap. Often a user is forced to wonder if they have the right data backed up at the right time only during a recovery, which is often too late. The CloudCasa console helps you centrally monitor your Kubernetes backups, scan your recovery points and help Kubernetes administrators meet their compliance needs.
Cyber Resilience
CloudCasa runs on a highly available and well-maintained public cloud infrastructure that guarantees a 99.95% SLA. Since the chances of the service provider and customer environments attacked at the same time are minimal, it presents customers with a virtual air gap domain for their Kubernetes backups.

CloudCasa also performs security scans on Kubernetes clusters to make sure they are correctly configured and to alert users of patchable container images. Proactive security posture management on Kubernetes clusters and the cloud environments saves a ton of hassle down the road, including helping to ensure your Kubernetes backups are good to be restored.
Below is a comparison that show the additional capabilities you get by using CloudCasa for Velero for your Kubernetes backup solutions.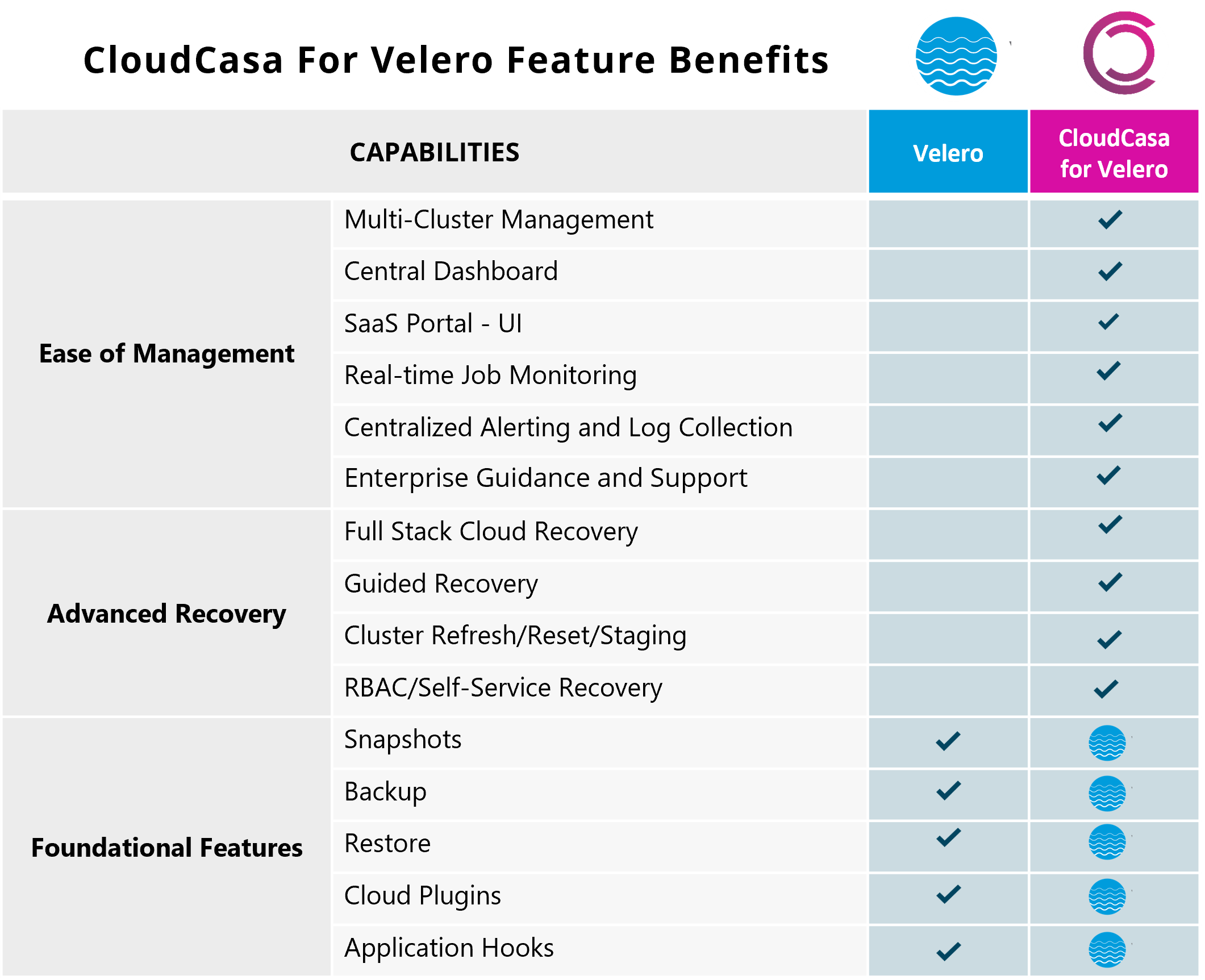 Are You Ready to Upgrade Your Kubernetes Backup Ride?
The future of applications is in a hybrid cloud environment, and you need a flexible data protection solution that can grow with you – on your choice of cloud provider – and go wherever your business takes you. CloudCasa, is built on Kubernetes to backup Kubernetes applications – it can auto-scale in the cloud to meet your growing and often unpredictable needs. With CloudCasa for Velero, you can centralize inventory and protection of all clusters in all the cloud accounts, regions, and providers. CloudCasa is the only Kubernetes data protection service to provide fully automated cross-platform, in-cloud, cluster recovery irrespective of where your application containers and clusters are hosted.
Velero is open source and free to use – but at your own cost in resources, tooling and staff. CloudCasa offers a generous Free Service plan to assist you, including support for backup of up to 15 worker nodes for Velero clusters. CloudCasa Pro employs utility pricing based on capacity protected. You can use unlimited worker nodes, clusters, distributions, and cloud providers and only pay for the licensed backup storage capacity. This model is much friendlier than the pricing models for Kasten or Trilio, at a time when the average PV is still very small.
Sign up for the CloudCasa Free Service plan, no credit card required. If you have any questions, check out Cloud Casa for Velero, or simply chat with us in our popular in-product support chat.