Multi-cloud Kubernetes Backup
With over 300 vendors exhibiting at KubeCon + CloudNativeCon North America 2022 (which is the long and official conference name), there was no shortage of early-stage vendors (230 at the silver and startup sponsor level) to visit for the 7000 attendees. Observability and security solutions were popular for the early-stage exhibitors. Even the big security and IT vendors have become regular and large sponsors, alongside the giant IT vendors and the hyper scalers, with their managed Kubernetes offerings, all vying in a lottery for the six diamond sponsor slots. KubeCon has clearly emerged as one of the most popular IT conferences to exhibit at and attend, which is an indication of the soaring popularity of Kubernetes. This is also supported by CNCF and other survey data that shows the rapid acceptance for deploying applications on managed Kubernetes offerings in public clouds. What we did not expect was the rapid adoption of multi-cloud strategies for Kubernetes.
The Multi-Cloud Journey for CloudCasa
For CloudCasa, let us start with a brief review of the KubeCon-driven journey to multi-cloud support, which started with gathering requirements at KubeCon San Diego 2019. The gap Catalogic saw, as a data protection vendor, was the lack of an easy to deploy and use backup solution; a lot of scripting was required which added to the complexity of deploying and managing Kubernetes. CloudCasa was launched as a beta service at the virtual-only KubeCon NA 2020, with the goal of providing a best-in-class, Kubernetes backup-as-a-service solution. Our goal was DevOps does not need to be storage or data protection experts to backup and restore applications on Kubernetes. As a SaaS solution, CloudCasa requires zero infrastructure to get up and running – no software or hardware to install, update, and managed for the backup solution. And as for IT Ops who usually manage backups, we did not want them to have to be Kubernetes and cloud experts and deal with the nuances of different Kubernetes distributions and managed services. CloudCasa normalizes all this by supporting all Kubernetes distributions and major cloud-based managed Kubernetes services.
At KubeCon NA 2021 last fall in LA, persistent volume backups to cloud storage became generally available for CloudCasa with utility pricing and EKS auto-discovery for AWS accounts. Leading up to the next KubeCon, we extended the AWS account integration from providing just cluster auto-discovery and guidance on what to backup, to automating the data recovery and migration process for Elastic Kubernetes Service (EKS) clusters and their persistent data.
This enables automation for cross-cluster, cross-account, and cross- region data recovery for EKS, supporting a "shift left" to provide cluster and data migration for dev, test, and staging, along with supporting compliance and disaster recovery for IT Ops. Further, cloud integration as depicted below, provides security, resiliency, and automation opportunities to help enable the multi-cloud Kubernetes journey.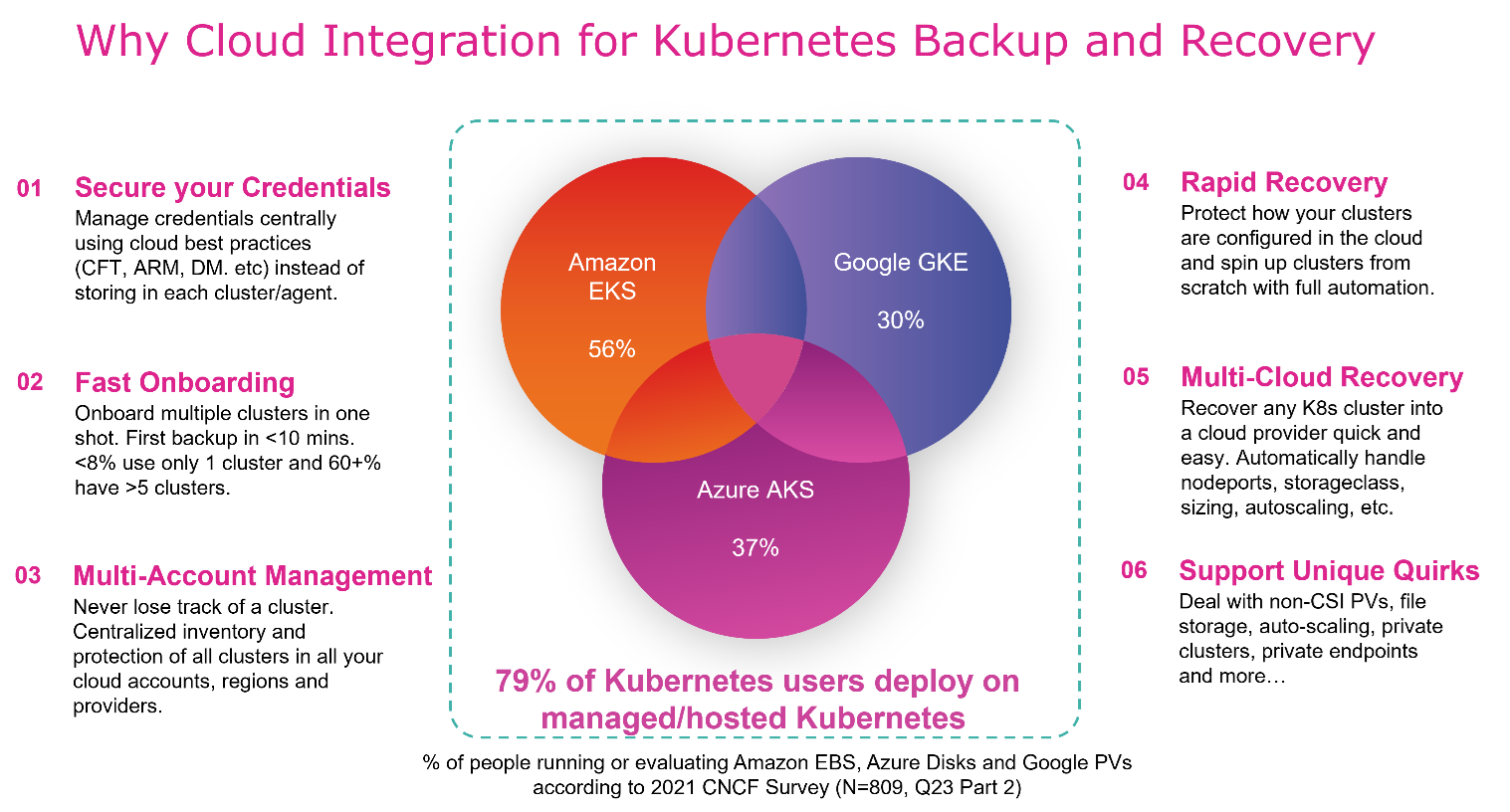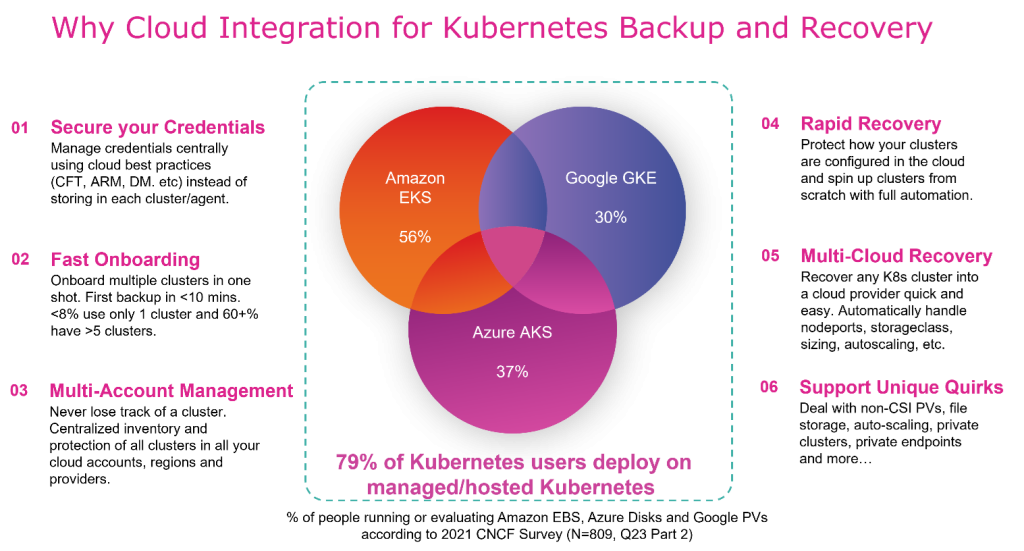 All good, except the immediate analyst and market feedback that CloudCasa should support
Azure account integration
as well, since many enterprises use both AKS and EKS. Our agile development team delivered Azure integration and more in time for KubeCon EU 2022 in Valencia.
Multi-Cloud Kubernetes Backup with Any2Cloud Recovery
Most organizations now have a clearly stated, multi-cloud strategy starting with AWS or Azure, which includes Google Cloud Platform (GCP) as the second cloud, but less often Azure or AWS as their second cloud. And as you can surmise, for the next KubeCon Detroit 2022 we delivered 
GCP integration with Google Kubernetes Engine (GKE) and Any2Cloud recovery
, including:
Google Cloud integration like our AWS and Azure integrations
Any2Cloud recovery that restores a backup of any cluster to any cloud
Cross-cluster and cross-cloud recovery between cloud platforms
Support for private links for connectivity between clusters and the CloudCasa service
Private backup repositories so data does not have to leave a site or a region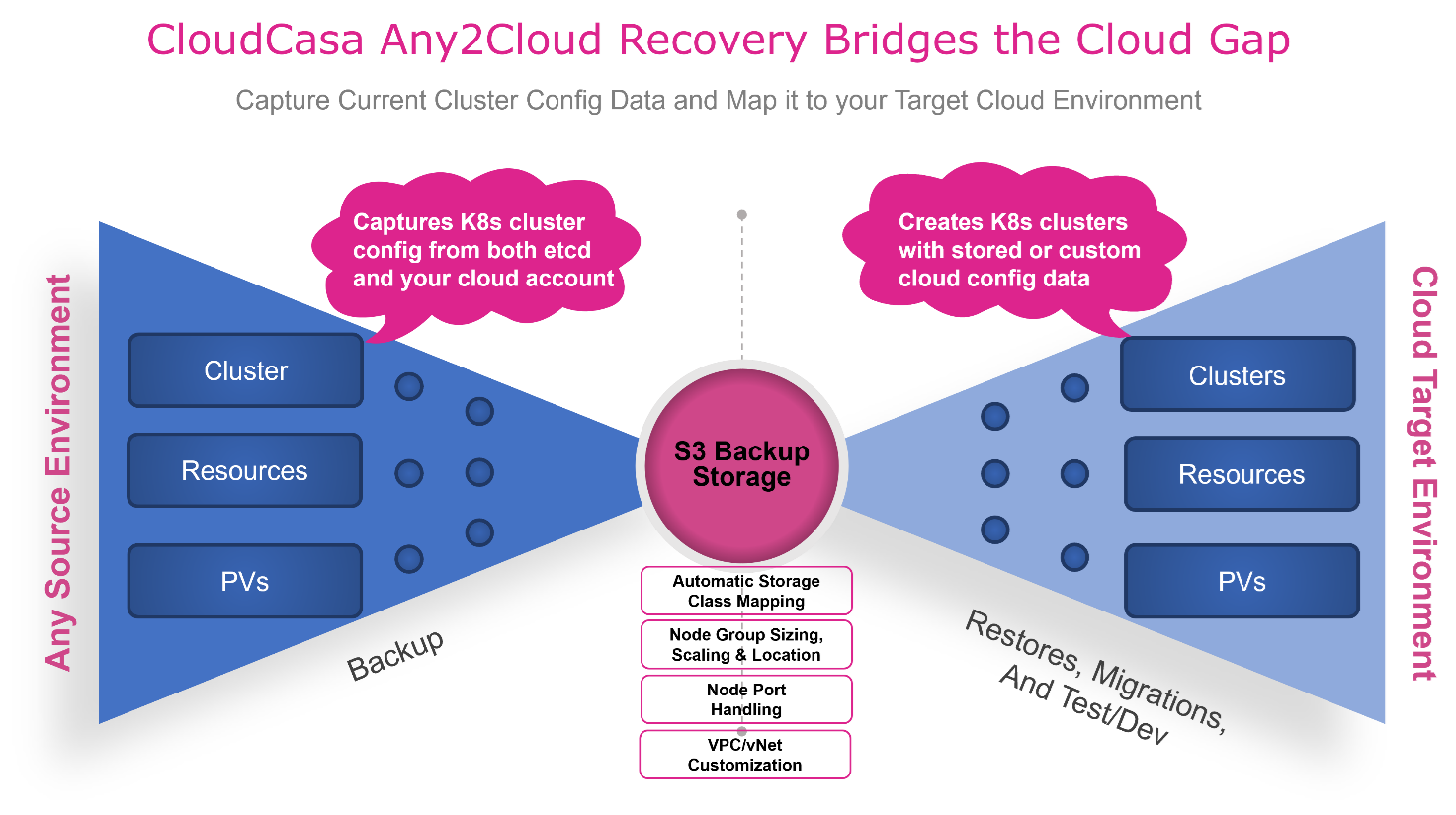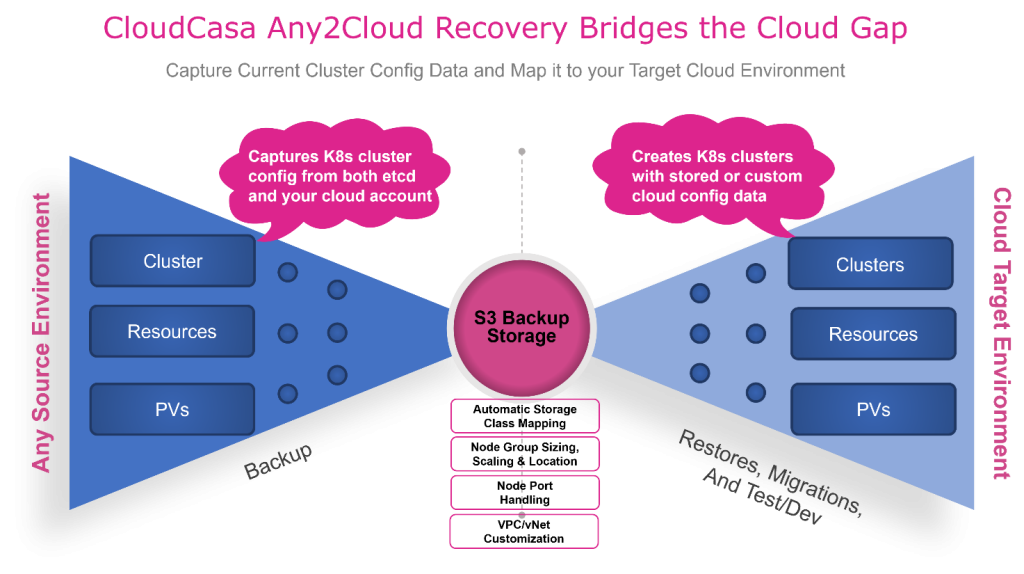 CloudCasa is the clear industry leader in
automation and integration for Kubernetes data protection
. Given CloudCasa supports all Kubernetes distributions and the "Big Three" cloud providers with their managed Kubernetes services, Any2Cloud recovery automation was a natural next step to automate and extend cross-cluster and cross-account recovery to any cloud, from any cloud, or from on-premises.
As depicted above, Any2Cloud recovery is enabled by capturing cluster configuration data during backups and mapping it to the target environment. Further, with cloud integration on the target side, clusters can be created automatically with data restored or migrated to them. With CloudCasa, there is no longer a need to have stand-by clusters, like the bare-metal restore capability for servers and virtual machines.
KubeCon NA 2022 Co-located Events
An increasingly popular aspect of KubeCon is the co-located events on Monday and Tuesday, with over 40 such events in Detroit. For every KubeCon show we have increased our participation in them, starting with the events focused on data management. CloudCasa is a sponsor of the
Data on Kubernetes Community
(DoKC) which was founded to lead discussions and share best practices about running stateful workloads on Kubernetes. We further sponsored and attended the co-located and live-streamed DoK Day NA 2022
. Cloud Native Data Management (CNDM) Day is another key event that we attended, with its more specific focus on Kubernetes storage and data protection.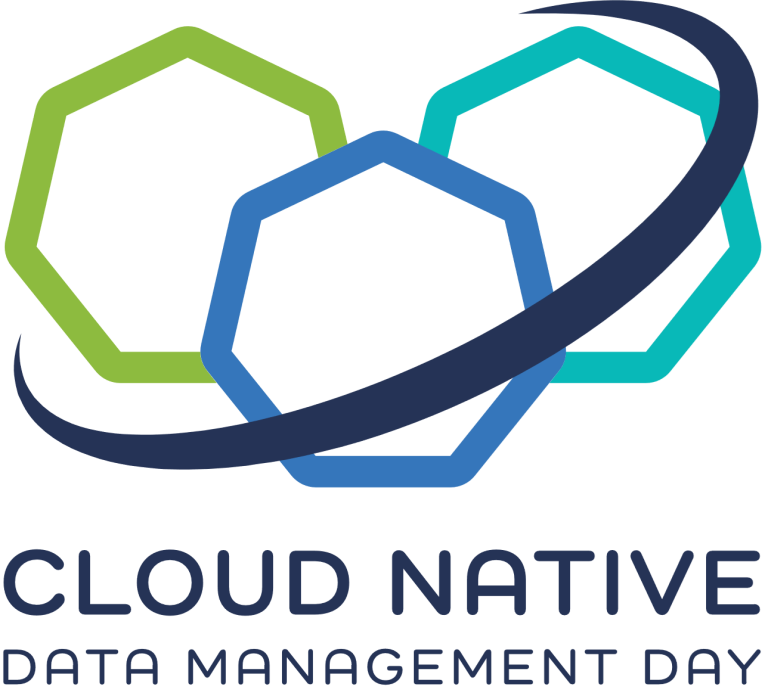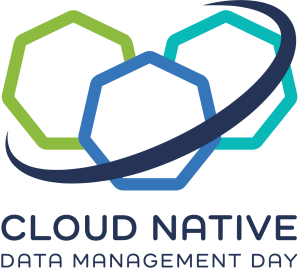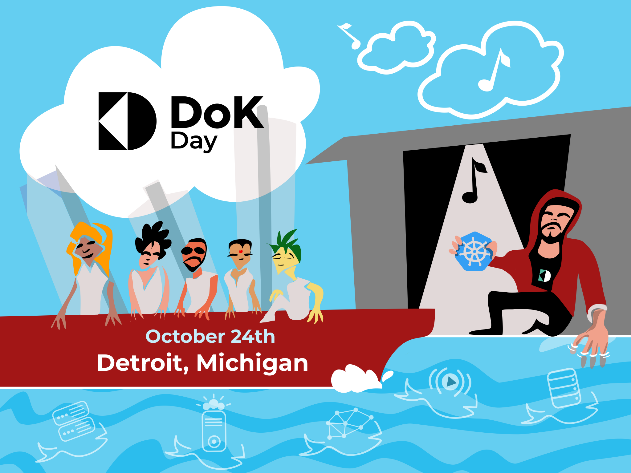 Other important co-located events that we attended were the AWS Container Day Featuring Kubernetes, and Azure Day with Kubernetes.
CloudCasa is the Best Kubernetes Backup-as-a-Service
At our booth in Detroit, we proudly proclaimed that CloudCasa is "The Best Backup-as-a-Service for Kubernetes." Not only that, CloudCasa is also the leader in cloud integration and automation. But you do not have to take our word for it:
"CloudCasa is addressing the key data protection and data migration challenges in multi-cloud and multi-cluster Kubernetes environments," said Enrico Signoretti, Research Product Manager, GigaOm. "With native integration into the Kubernetes services of the top 3 public clouds in addition to Kubernetes itself, CloudCasa helps enable both the multi-cloud and hybrid-cloud journey in this important cloud native ecosystem."
Compared to KubeCon NA 2021 event, the CloudCasa booth had more than twice the in-person traffic, but only a similar number of visitors to our virtual booth. Our e-scooter giveaways continued to be popular, with two e-scooters awarded at each of our physical and virtual booths. The e-scooter has become a mascot of sorts for our booth, and it provides amusement for our staff. Similar to our $50 Sign-Up promotion offer, you can try the  
free service plan for CloudCasa
, no strings attached. If you want to have a personalized demonstration or just have a chat with us, feel free to get in contact via 
casa@cloudcasa.io
.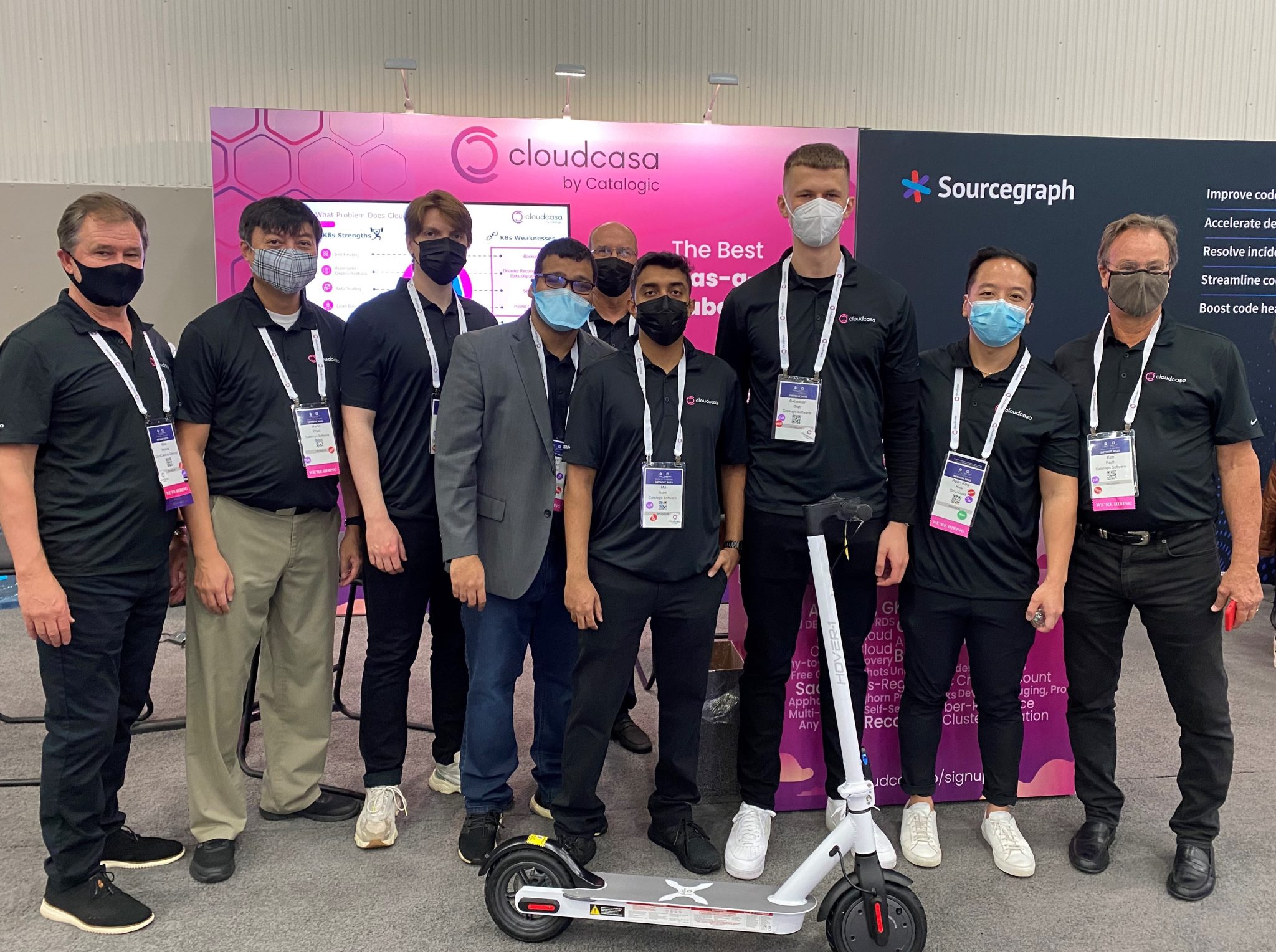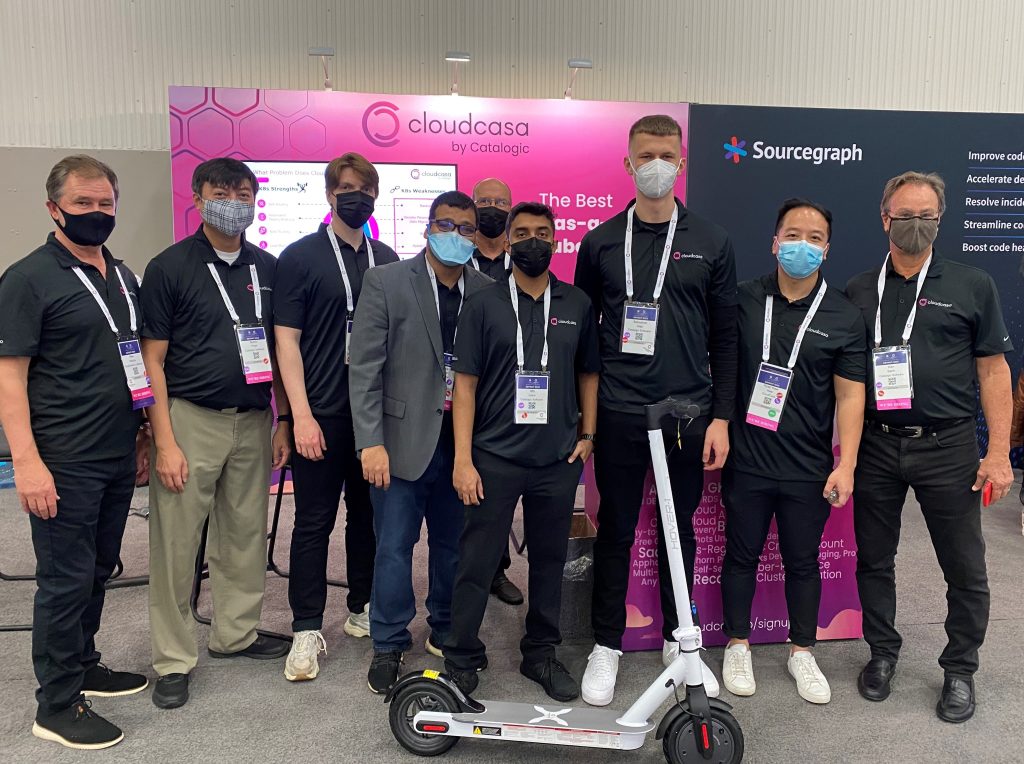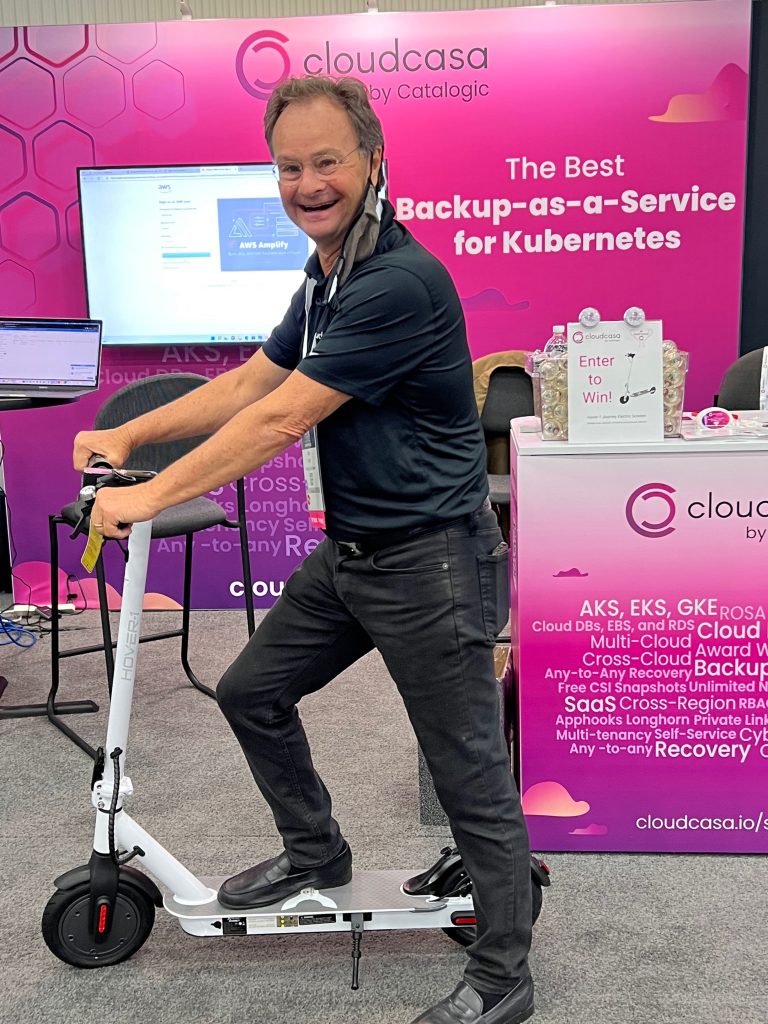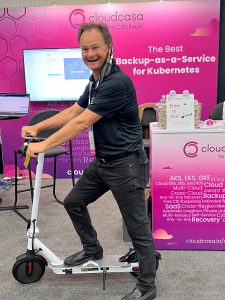 As the hybrid and multi-cloud journey continues for the industry, CloudCasa will continue to become more cloud and platform aware to provide more automation and cyber resiliency. This will include more integrations with other vendors to help simplify your journey in the cloud-native world.