Would your team benefit from a simple and easy to use Kubernetes data protection service that does all the hard work for you to backup and protect your multi-cloud, multi-cluster, applications and cloud native databases? A cloud-based Kubernetes backup service so easy to use that even developers won't mind managing backups?
We built CloudCasa to address the weaknesses in Kubernetes data protection and cloud native infrastructure, and to bridge the Kubernetes data protection and management gap between DevOps and IT Operations. As a SaaS solution, CloudCasa removes the complexity of managing traditional backup infrastructure, and it provides the same level of application-consistent data protection and disaster recovery that IT Operations provides for their server-based applications today. With CloudCasa, IT doesn't need to be Kubernetes experts and DevOps doesn't need to be storage experts in order to protect your Kubernetes clusters and data.
Kubernetes Backup Webinar Recap
During our live webinar and demo, we covered the benefits of using CloudCasa – a simple, scalable cloud native backup service, built using Kubernetes to protect Kubernetes. Our market research shows that DevOps users want the following capabilities for their cloud native, data protection solution:
· No hardware or storage infrastructure required
· All Kubernetes distributions supported with multiple storage options
· Back up offsite and in their cloud of choice
· Protect against logical and intentional data loss
· No hassle, no cost to get started
We asked the audience several poll questions and we found the response to "How do you back up Persistent Volumes today?" to be interesting. Many different methods are being used which supports the early and somewhat confusing state of data protection for cloud native applications.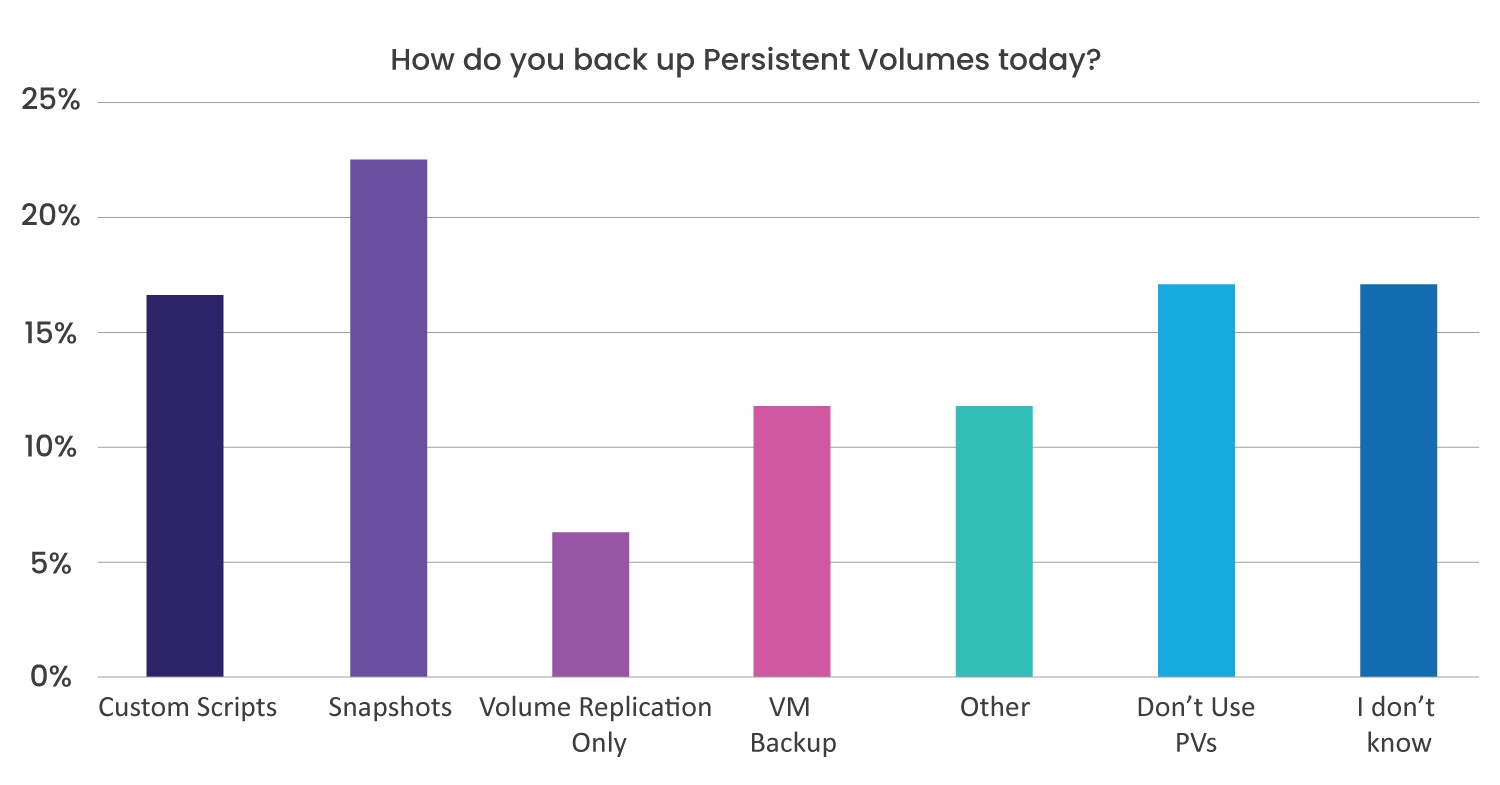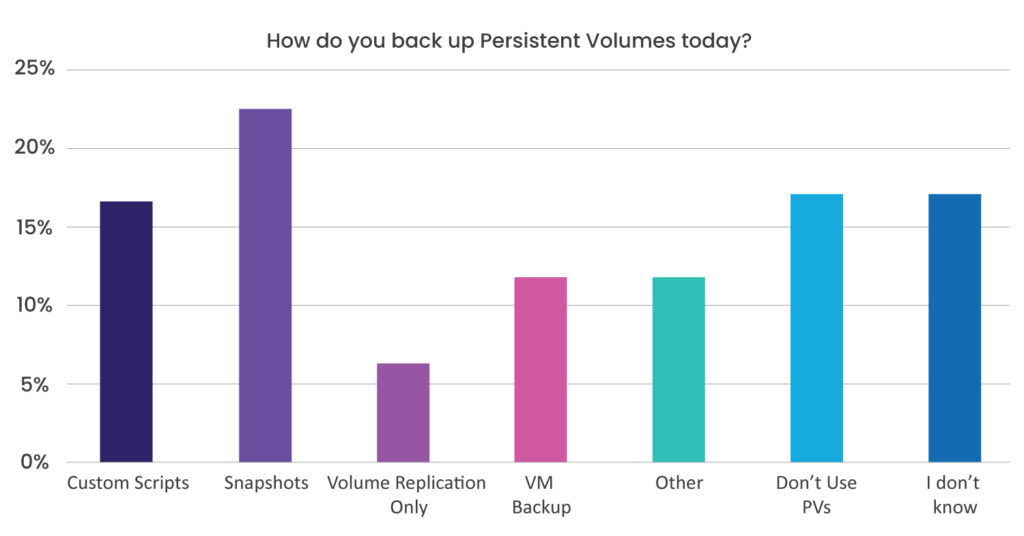 We also previewed the additional paid premium features and capabilities coming this quarters including multi-cloud and multi-region storage, protection of database services such as Amazon RDS, and Persistent Volume (PV) backups. But note that our current level of data protection service is FREE forever at the current level of service, with no limits on the number of snapshots, worker nodes or clusters, and your cluster resource data and snapshot metadata is always encrypted and retained for free on secure storage.
Webinar Q&A
Here are some of the questions that were addressed at the end of the webinar. Please email us at casa@cloudcasa.io for further questions or clarifications.
Will RDS backups and database snapshots be free as well?
Yes, snapshot management will always remain a free service. If you would like to back up your snapshots to your own cloud storage or to a different cloud provider, those will be premium features which will be announced when they become available.
Can you use CloudCasa for Amazon RDS backup and recovery to another public cloud? (Example: GCP Coldline)
This is not currently a part of our free service, however there are other key features that RDS backups will include, such as backup to a different account or different availability zone within the cloud. In a public cloud instance, you can store RDS data in various formats that are platform agnostic and can be exported to different cloud providers.
Can you compare CloudCasa to Velero Backups?
Velero is a single-cluster solution that is configured locally and that allows you to perform backups of your cluster. CloudCasa allows you to manage multi-cluster, hybrid, and multi-cloud, backups. The challenge of manually dealing with Velero on a dozen clusters is very different from dealing with Velero on one cluster. For more information, please see Top 10 Reasons to Use CloudCasa™ vs. your Cloud Vendor's Backup.
Is my Kubernetes backup data encrypted?
Your data is encrypted both in transit using TLS and at rest using AES-256. Stored data objects are also isolated so that data belonging to one user can never be seen or accessed by another user. We are working on an option to allow our users to "bring your own keys." Expect to hear more about this in the next quarter.
Can I pick my own cloud storage provider?
Yes, we have separate control and data planes, so we can add support for as many storage planes as possibly. Today, we manage that storage for you to provide a turnkey solution, and soon we will allow customers to choose their preferred cloud provider and region to store their backup data. You will have the freedom to define where your data will be sent, without having the responsibility of managing storage or cloud credentials.
Your Next Kubernetes Backup Steps
CloudCasa is backed by Catalogic Software, a proven enterprise data protection company with over 20+ years in the industry. CloudCasa is a reimagination of backups leveraging Catalogic' proven expertise in snapshot and copy data management across multiple storage vendors. Our goal is to do all the hard work for you to backup and protect your on-premise or multi-cloud and multi-cluster Kubernetes environments, so you can focus on delivering value to your business. Please give CloudCasa a try today, and let us know what we can do to further enable your cloud native applications. Did you miss the CloudCasa webinar? Don't worry, you can view a recording of it here.