Kasten Replacement With CloudCasa
If you are considering Kasten today and wondering what alternatives exist for K10 Kubernetes backup, you are in the right place. We will make our case for why CloudCasa should be your choice for Kasten replacement.
This blog addresses why you should chose CloudCasa vs. Kasten. If you are considering moving to Kasten from Velero, you can find detailed information on why to stick with Velero vs. Kasten, especially with the addition of CloudCasa for Velero to address management and supportabilty gaps with Velero.
Kasten K10 is one of the first products built to address the data protection gap in Kubernetes environments. Veeam is a market leader in data protection, and they acquired Kasten in 2021. Together, Kasten by Veeam presents a strong combination of innovation and go-to-market chops, but at a hefty price.
CloudCasa is a Kubernetes backup SaaS offering that targets the same users as Kasten and delivers much of the same capabilities: Kubernetes native backup and recovery, snapshots, backup to S3 storage, multi-cluster management, application awareness, cross-cluster recovery, etc. However, there are clear differences between these offerings, and major advantages in how CloudCasa is delivered, managed, and priced.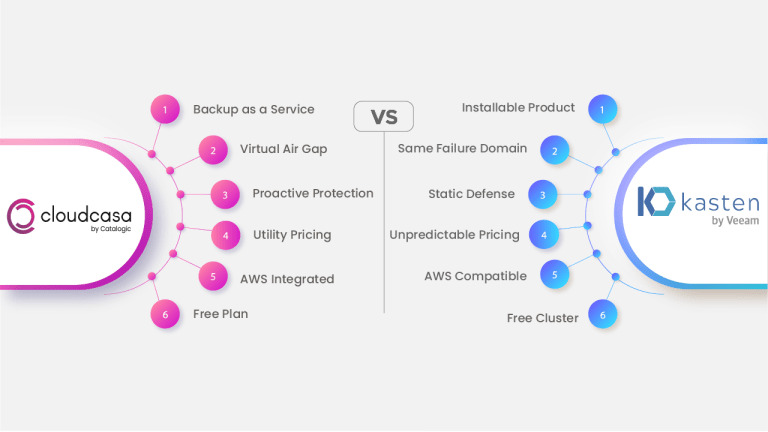 Let's briefly go through these differences and the benefits that they would provide your business as a user of CloudCasa. 
1.  Backup as a Service vs. Installable Product  
CloudCasa is a SaaS offering that takes the pain of managing a software application away from your DevOps and IT Operations teams. Kubernetes is complex technology already and managing another Kubernetes infrastructure application is an unnecessary burden for your teams. For example, updating and patching Kasten K10 in multiple environments is a burden that the teams shouldn't have to be doing. Additional tasks include monitoring and dealing with the resource and memory limits of Kasten, configuring auto-scaling, and monitoring catalog space (Is your StorageClass even expandable?). These complex tasks are tapping into the same resource-constrained teams running your critical business applications. CloudCasa takes all of these management burdens and risks away from your teams. 
2.  Virtual Air Gap vs. Same Failure Domain 
Kasten K10 is typically installed on one of the Kubernetes clusters being protected. If that cluster or node were to experience a failure, your Kubernetes backup infrastructure would be down. CloudCasa runs on a highly available and well-maintained public cloud infrastructure that guarantees a 99.95% SLA for its Kubernetes managed service. Many restores these days are a result of cyber-attacks or configuration errors. CloudCasa presents a virtual air gap domain from those events, given the risk of a service provider and a customer environment being attacked or misconfigured at the same time are minimal.
3.  Proactive Protection vs. a Static Defense 
Both Kasten and CloudCasa support backup and recovery of Kubernetes workloads to S3 storage, with immutability or tamper-proof capability that acts as a last line of defense. However, with CloudCasa, users also have the ability to do proactive vulnerability assessments on their Kubernetes environment and receive alerts to proactively address problems before they can potentially be exploited. 
4.  Utility Pricing vs. Proprietary Solution Pricing 
Storage lags compute in terms of adoption in Kubernetes so large stateful datasets are still at their infancy. The average size of a Persistent Volume (PV) is smaller than most of the system drives in desktops and laptops. Kasten charges based on worker nodes, because the amount of storage per worker node is still very low. Worker nodes are also the primary variable in auto-scaling configurations, thereby introducing unpredictability for customers with this licensing model.
CloudCasa pricing is based on the long-term growth of Kubernetes, and it employs utility pricing based on capacity of data protected. With CloudCasa, you can use unlimited worker nodes, clusters, distributions, and cloud providers, and simply license how much backup capacity you need. For example, one of CloudCasa's earliest users had 40+ worker nodes using less than 1TB of PVs. For that configuration, Kasten is priced 10 times higher than CloudCasa.  For most configurations, we target CloudCasa to be priced at 20% or less of Kasten.
5.  AWS Integrated vs. AWS Compatible 
Both CloudCasa and Kasten can protect Amazon EKS Clusters and backup to AWS S3. CloudCasa takes this a step further – an AWS user can easily scan in their cloud accounts and auto-discover all EKS clusters for centralized data protection management. CloudCasa can also perform vulnerability assessments on your AWS accounts covering over 20 popular AWS services similar to the assessments available for Kubernetes clusters. CloudCasa also collects EKS metadata during cluster backup and auto-creates a new cluster based on these settings during recovery, removing the need for expensive standby clusters. If you are an Amazon EKS user, you owe it to yourself to try CloudCasa because it is not just Kubernetes aware, but also cloud-aware and cloud-smart.  
6.  Free Plan vs. Free Cluster 
Both CloudCasa and Kasten offer free licenses for developers and DevOps engineers. Kasten offers a free license for up to 10 nodes on a single cluster with a key that must be extended every year. Given the one cluster limit, Kasten's free license is not a viable choice. Most developers use at least one cluster each dev, staging and production; they would need to choose to not protect the environment they tinker with the most. 
CloudCasa's Free Service Plan is free forever and it has no limits on worker nodes, clusters, or cloud accounts. The free plan allows unlimited snapshot orchestration, with retention of 30 days. Customers will need to upgrade only when they want to run backup jobs for PVs. 
And a Few More Reasons for Kasten Replacement 
Some additional things to consider with Kasten, that are not issues for CloudCasa: 
In the event of recovering from a disaster or user error, Kasten's multi-cluster managers' configuration data is lost, and every cluster must be boot-strapped from scratch. 

 

Given the distributed storage of policies and resources, there is the constant exposure of configuration drift across primary and secondary clusters until configurations are redistributed.

 

Kasten K10 requires a more expensive "performance-oriented" storage class such as SSD for its operations.

 

When you have immutable backup policies, you must run a K10 DR policy at least as often as your most frequent immutable backup. Since your backup catalog sits next to the application you are protecting, a cyberattack could compromise both at the same time.

 
Your Next Steps 
Sign up for the CloudCasa free service plan, no credit card is required. If you have any questions on your Kasten replacement, check our extensive CloudCasa FAQ, or simply chat with us in our popular in-product support chat, which is another differentiation vs. Kasten K10. You may also qualify for one of the KubeCon promotions we are currentily running.  or