Kubernetes Backup – CloudCasa – in 1-Click from DigitalOcean Marketplace
DigitalOcean Marketplace: Are you a DigitalOcean vendor or user and developing or deploying a Kubernetes application?  You may want to preserve your cluster configuration, backup your persistent volumes to protect them from ransomware, accidental deletion, and long-term retention policies. CloudCasa is the only data protection and disaster recovery solution that has been tested and certified as a 1-Click appliction with DigitalOcean Kubernetes and available in their marketplace. We recently held a webinar to walk through how easy it is to install and start backing up your Kubernetes resources and data, and why this is a better approach than taking a do-it-yourself approach with Velero.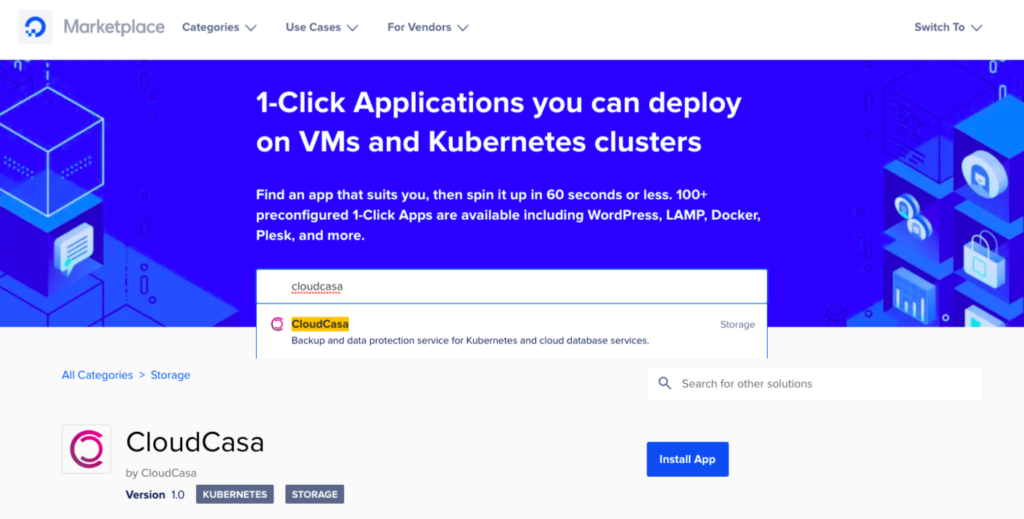 Webinar Recap
During our live webinar, solution architect Martin Phan discussed how to do the 1-Click deployment from the DigitalOcean Marketplace to backup your Kubernetes resources and application data. He also gave a demonstration of the free service tier that includes backups of Kubernetes resource data and snapshot management for persistent volumes. The free service tier permits an unlimited number of clusters and worker nodes per user or organization with up to 30 days of backup data retention, along with Amazon RDS snapshot management with multi-region copies, with other managed databases to come.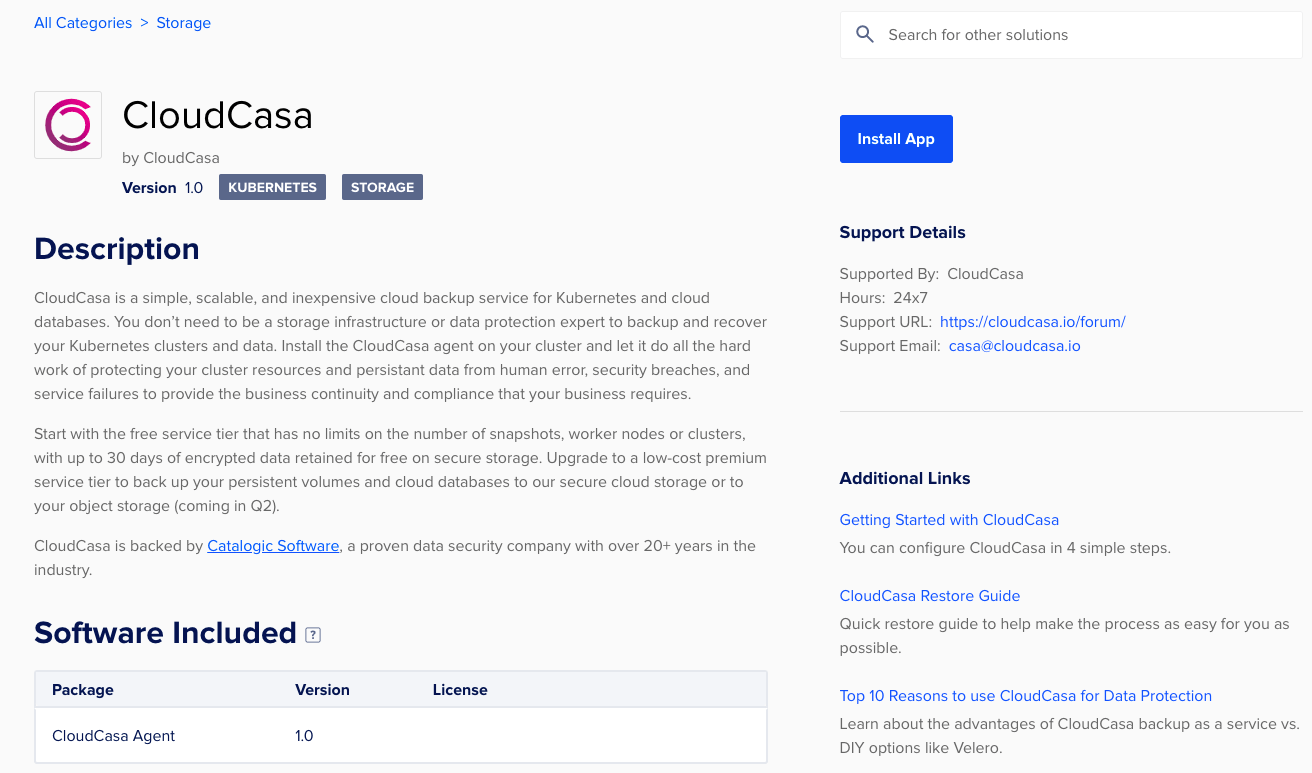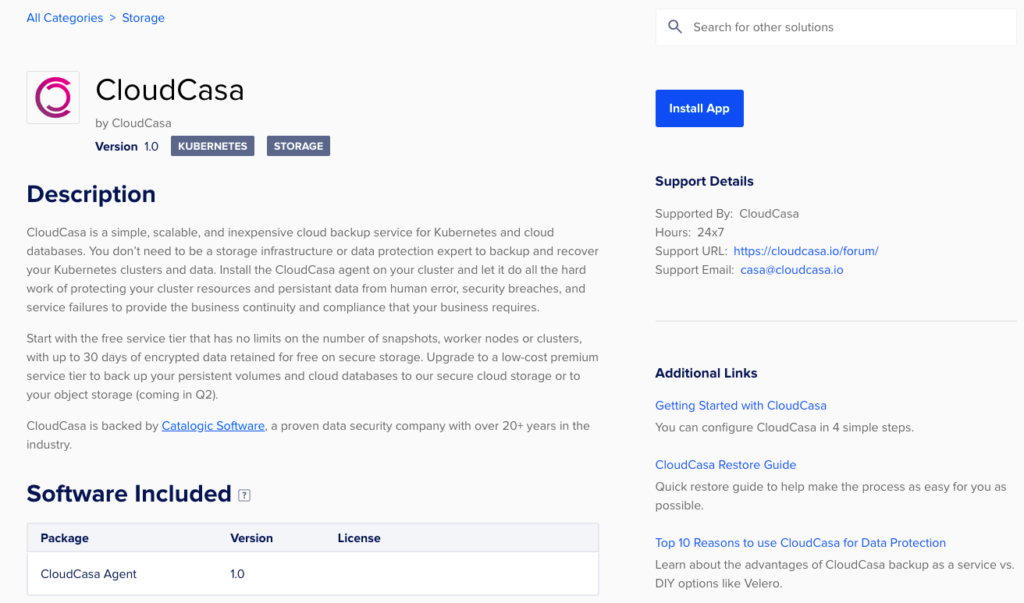 Smart Home In the Cloud
Our smart home in the cloud for data protection solution – CloudCasa –  is built with Kubernetes for Kubernetes and cloud databases to take advantage of being cloud smart. We adapt as we receive feedback from the user community to enhance our service and add features such as DigitalOcean integration. Regardless of which cloud you're using, it could be Google Kubernetes, Azure AKS, Amazon EKS, SUSE Rancher, or DigitalOcean, CloudCasa supports all the different clouds that you have, and protect your cloud data workloads.
Why did we build CloudCasa?
Kubernetes offers a lot in terms of being able to manage, grow and scale applications. Where we see the weaknesses and why we have built CloudCasa as a data protection service is because of Kubernetes' deficiency in terms of backup and disaster recovery. As users continue to move their stateless applications into the cloud, they're also moving towards stateful applications and they need data protection.
This is where we see some of the weaknesses within the Kubernetes and cloud database space, which is why CloudCasa can help you integrate and correlate all the cloud objects into one single pane of glass. We want to provide you with a single workflow that allows you to combine all the different clouds that you might be using today and provide data protection for them. In addition to that, CloudCasa supports the relational databases and other object storage content that may be hosted in the cloud with persistent volumes as.
CloudCasa's Free Service Tier
Best of all, CloudCasa offers a free service tier! The current service offering can take presistent volume snapshots of your cloud-hosted resources and track that for 30 days through CloudCasa. You're going to be able to do that just by signing up for an account at cloudcasa.io. Everything from registering a DigitalOcean cluster, taking persistent volume snapshots of Kubernetes cluster data, and maintaining it for 30 days is available within a free service tier.
There are premium service offerings that we're building in CloudCasa coming soon, where we will add some additional features such as being able to move backup data from your cloud off onto our cloud. There's also "bring your own license model" that will be possible for partners and customers, as well as additional road map items that we're going to be releasing in the future.
Webinar Q&A
How does CloudCasa compare with using Velero for backing up my cluster on DigitalOcean?
Verlero is an open-source software that is widely used to backup a Kubernetes cluster. But remember being open source it's something that you have to manage. It's command-line based, it doesn't have a UI, and it doesn't have that cloud scalability in terms of being able to support multiple clusters and spin up and scale down containers as necessary. Also, you are getting CloudCasa for free. To find more information, view our 10 Top Reasons for Using CloudCasa.
Does CloudCasa support the DigitalOcean block storage?
Yes, we do support that, and we tested CSI snapshots on DigitalOcean clusters.
Is CloudCasa only available on the Digital Ocean marketplace?
In this webinar, we only referred to the DigitalOcean marketplace, but we are in the process of supporting other marketplaces for your Kubernetes management resources. Earlier we introduced SUSE Rancher marketplace, but just because it is not in a marketplace, doesn't mean we don't support that specific environment.
CloudCasa works with all popular Kubernetes distributions, such as Red Hat OpenShift, Suse Rancher, and VMware Tanzu. It also works with managed Kubernetes services such as EKS, AKS, and GKE. Your Kubernetes version must be 1.13 or higher, including the new 1.21 release, for CloudCasa to protect your resource data. To leverage CSI snapshots, the registered cluster must be version 1.17 or higher.
What's next for CloudCasa?
We're moving very fast. From when we were launched at KubeCon back in November 2020, we've been very agile by taking advantage of building and developing software in the cloud and pushing out updates without greatly impacting the user community or environment. We have been able to introduce these new features in Q1 – Amazon RDS integration, SUSE Rancher marketplace service, and multi-cloud region storage integration. In Q2 this year we've introduced the integration and footprint into DigitalOcean marketplace and Azure object storage.
In Q3 – our premium tier will be available for PV backups, along with some other object storage and marketplaces that will be supported. Moving forward, other features we will be looking to support are additional application hooks, more relational database service support, and bring your own keys model for encryption.
Did you miss this webinar? Don't worry we've got you covered. You can view the "CloudCasa in 1-Click from DigitalOcean Marketplace" on-demand.