SUSE Rancher does a great job addressing the operational and security challenges of managing multiple Kubernetes clusters across any infrastructure, providing simple, consistent cluster operations including provisioning, version management, visibility and diagnostics, and monitoring.  What its doesn't provide is Kubernetes backup and recovery for your Rancher cluster resources and Longhorn persistent volumes. However, that's not an issue given the SUSE One Partner Program enables additional data protection tools and solutions from partners. These SUSE Rancher Ready solutions can be accessed through the SUSE Rancher Apps & Marketplace in your Rancher installation. Let's explore how that works for CloudCasa for Rancher Data Protection and cloud database backup service.
Why you Need Rancher Data Protection
Now that you have SUSE Rancher managing your Kubernetes applications, you need to consider how to further protect your application and cluster resource data.  While Kubernetes is designed to provide a zero-downtime environment, service interruptions can happen, as well as human and programmatic errors and of course the dreaded ransomware and cyber-attacks.
To protect and easily recover your stateful Kubernetes applications from the inevitable loss of data, traditional data protection methods including snapshots, replication, and backup copies need to be employed.  These snapshots and backup copies not only act as a form of insurance when disaster strikes, they are also useful during the DevOps process and for other IT and business processes such as application testing and compliance retention and reporting.
Why get Kubernetes Backup from the Rancher Apps & Marketplace

As noted earlier, SUSE Rancher provides simple, consistent cluster operations including provisioning, and they have extended to partner applications in the Rancher Apps & Marketplace. This partner ecosystem makes Rancher Ready partner applications easily accessible, and it also provides a level operational consistency and assurance that they work with Rancher.
The management of Kubernetes deployments is currently dominated by developers and DevOps engineers who usually don't deal with data protection solutions. Being able to easily access, deploy and test data protection and disaster recovery by the DevOps team is a classic "shift-left" of operational processes for modern application development.
Why CloudCasa for SUSE Rancher Backup
CloudCasa, a simple, scalable, and inexpensive cloud backup service for protecting your Rancher managed Kubernetes clusters and your cloud databases. CloudCasa does all the hard work of protecting your clusters and stateful applications, so you can realize the operational efficiency and speed of development advantages of Kubernetes. And the great news for developers is that you can start with our free service tier that has no limits on the number of snapshots, worker nodes or clusters, with up to 30 days of encrypted data retained for free on secure storage.
We are pleased to have the CloudCasa backup agent certified as SUSE Rancher Ready and available in the SUSE Partner Software Catalog as a Rancher Ready application, and through the SUSE Rancher Apps & Marketplace as shown below as a Helm chart installable on Rancher managed clusters. The Helm chart for CloudCasa orchestrates installation of the CloudCasa backup agent and connection to the CloudCasa data protection serviceD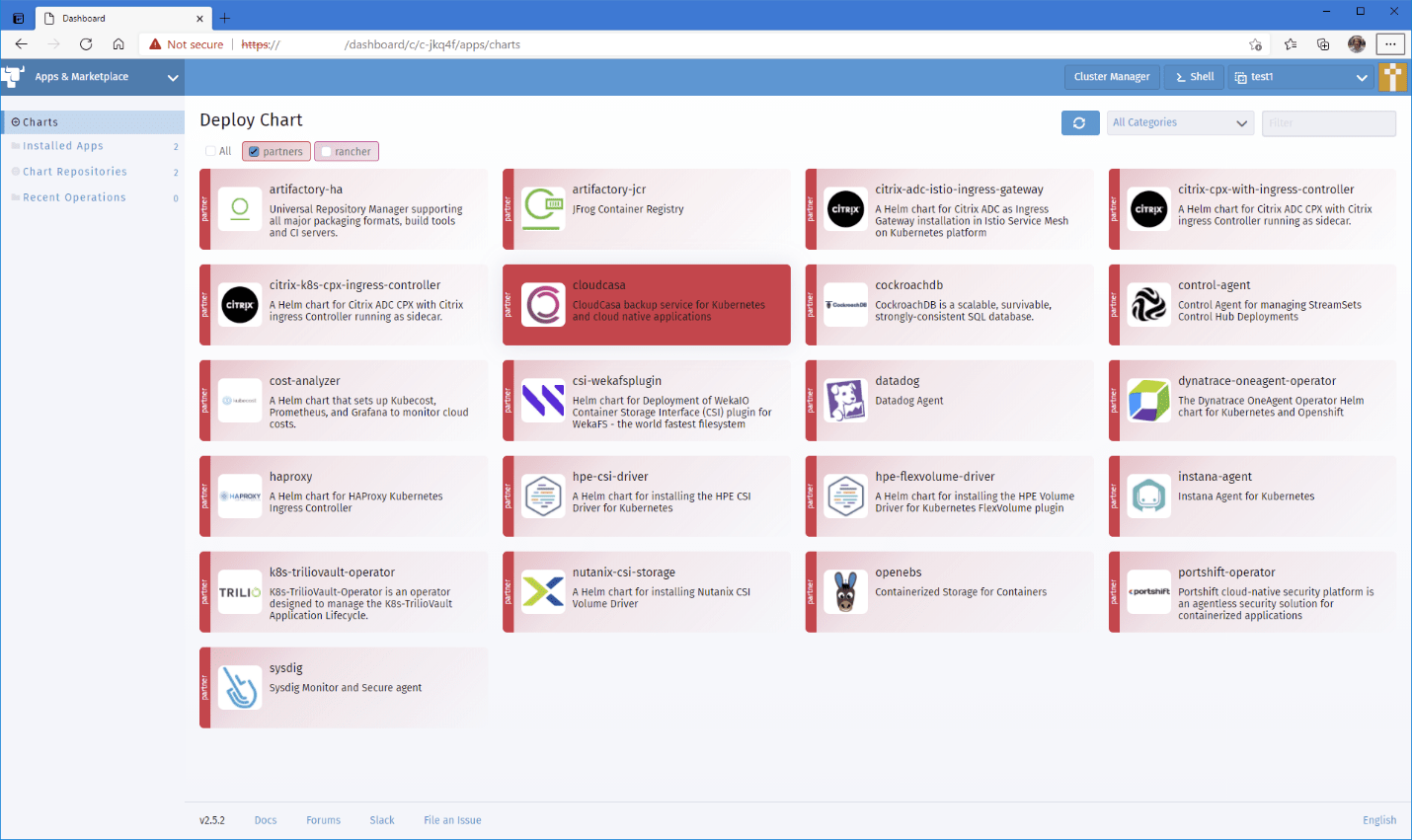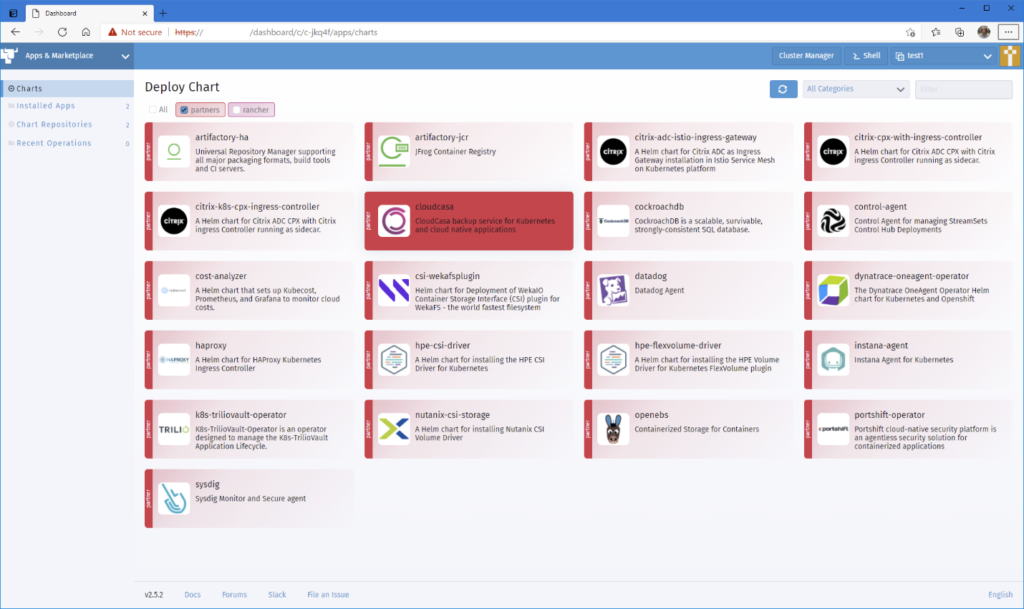 SUSE Rancher customers can now easily deploy the CloudCasa agent and activate the CloudCasa service to backup and restore clusters and persistent volumes via CSI snapshots. If you are using Rancher to manage cloud services such as EKS, AKS, or GKE, your application may be using one or more of their cloud databases. Recognizing that enterprises have multiple options for persistent data storage for their cloud applications, CloudCasa also supports cloud databases starting with Amazon RDS.
Your Rancher Data Protection Next Steps
With CloudCasa, we have your back, based on our many years of experience in enterprise data protection and disaster recovery. From the SUSE Rancher Apps & Marketplace, you can easily access and deploy CloudCasa to your Rancher and any other clusters to provide application-consistent Kubernetes data protection and disaster recovery for your cloud native applications that your IT department provides for their virtual and physical server-based applications today.
Watch this short video on how to install CloudCasa from the Rancher Apps & Marketplace. Learn more about CloudCasa and sign up now for our free service tier at CloudCasa.io.